For 20 years, Graham Children's Health Services (GCHS) has served Mitchell and Yancey county residents with programs and services designed to improve the health of our community. Since 1997, these initiatives and collaborations have included: Toe River Dental Clinic, Mitchell Yancey Substance Abuse Task Force, four permanent drug drop boxes, Summer Food Program, Sizzlin' Summer Series, and the renovation/construction of many recreation facilities (including the old Burnsville Gym, Kid Mountain playground, Ray-Cort skate park, countless walking trails and sidewalks, and recreation facilities at Cane River Park) to name but a few!
In 2015, GCHS was awarded a grant through WNC Nonprofit Pathways and the Community Foundation of Western North Carolina that enabled the organization to engage Taproot Consulting to conduct stakeholder surveys and develop a strategic plan. According to Schell McCall, Executive Director of GCHS, "One of the findings that came as a result of this process was the realization that, while many community members are familiar with the results of our work, they don't necessarily realize WHO is responsible for these great projects. Many of the survey respondents said that they'd heard of Graham's, but they didn't know exactly what we do." According to Oscar Weinmeister, Board member and past Board Chair, "When we meet people who are unfamiliar with our work and we have to spend the first few minutes explaining that we are NOT from Graham County, and we are NOT a children's health clinic…by that time we've lost the opportunity to tell them who we ARE and about all of the great stuff we do!"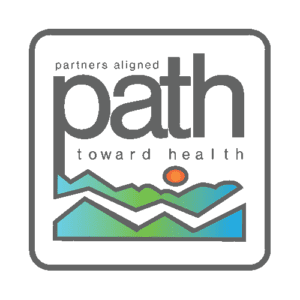 With the goal of choosing a name that best fits the organizational mission, GCHS sought and received a small grant for developing a new name, logo, and website. "Our new name – Partners Aligned Toward Health – encapsulates who we are, what we do, and how we do it. We focus on community health, and all of our initiatives are partnerships," says Ron Powell, Board Chair.  In order to honor the organization's rich history and to provide visual consistency, the new logo incorporates the artwork designed many years ago by John Doyle for Healthy Yancey (a program of GCHS/PATH). PATH's new website is user-friendly and provides a wealth of information about PATH and programs.
On March 16, 2017, at the Burnsville Town Center, the staff and Board of Partners Aligned Toward Health (PATH) officially unveiled their new name and logo to the community, expressing deep gratitude for the partnership and support of all of the local organizations, volunteers, donors and funders, staff, and board members (past and present) who have made the past 20 years of community health initiatives such a success. Ms. McCall shared, "We couldn't think of a better way to celebrate our 20-year anniversary than by taking a moment to thank the many partners whose ideas, support, and encouragement have made our work possible. We are looking forward with excitement to the next 20 years of serving our community!"
To learn more, support our work, or get involved as a volunteer, contact PATH staff at (828)682-7899 or info@pathwnc.org.