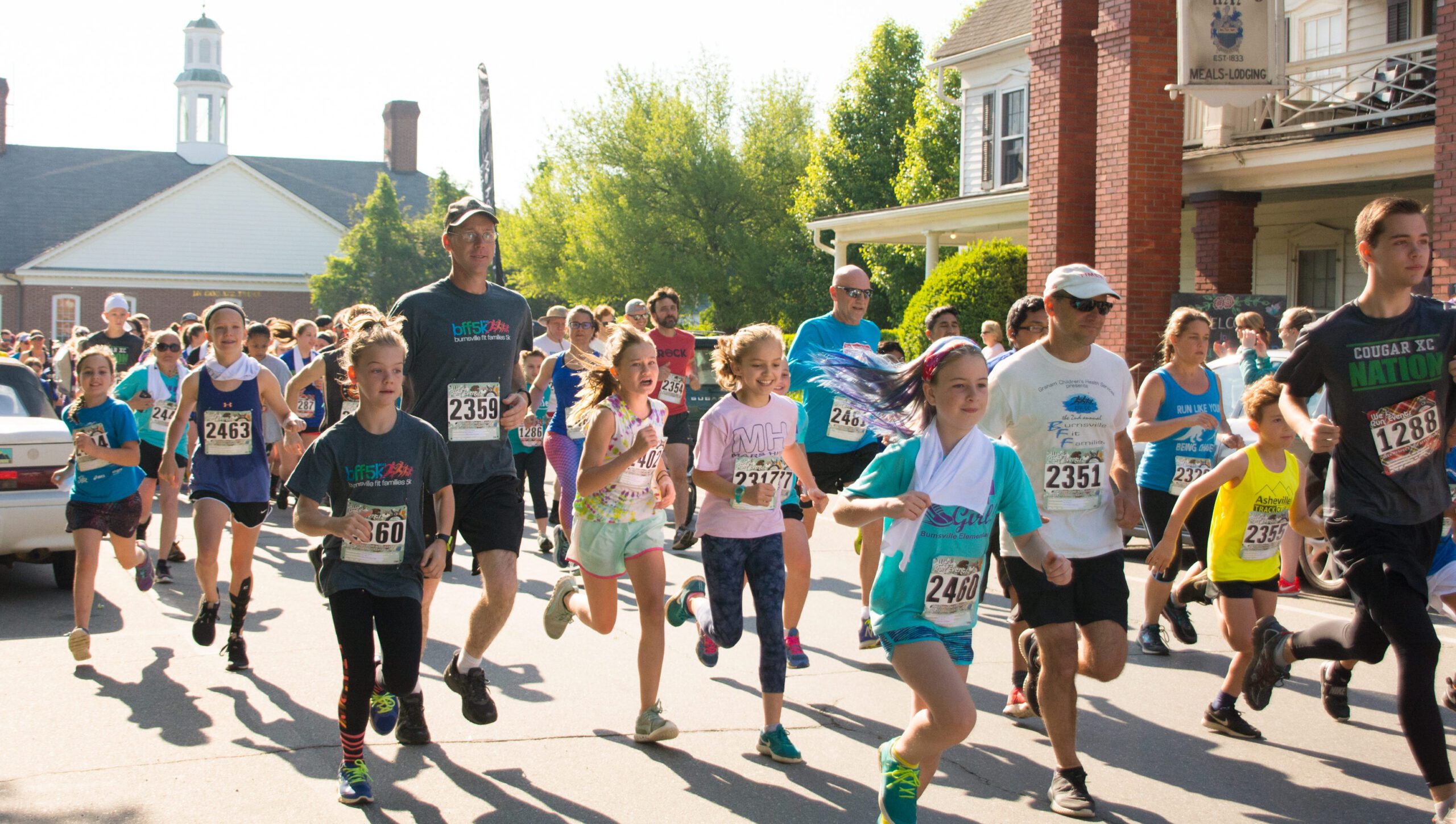 The 9th Annual Burnsville Fit Families 5K was a Great Success! Each year, Partners Aligned Toward Health organizes the Burnsville Fit Families (BFF) 5K with the goal of uniting our community through healthy activity. The 9th Annual Burnsville Fit Families 5K, held on Saturday, May 12th, was a great success! Owing in part to the fantastic weather, the turnout this year was the highest on record with 205 runners and walkers crossing the finish line.
Developing healthy habits at a young age is a great way to make them stick. That's why youth under the age of 18 run for free! Through the generous sponsorship of many community organizations and those who participated in our "Sponsor a Runner" campaign, 102 kids were able to participate this year! In particular, we would like to thank our title sponsor, Mountain Community Health Partnership, who has been a valuable partner and consistent supporter of community health initiatives in their service area.
The race would not have been a success without the many volunteers and partners who came together to manage logistics. The Burnsville Police Department, Burnsville Fire Department, Yancey EMS, and many volunteer Course Marshalls helped to keep runners safe on the race course, and staff of Mountain Community Health Partnership manned the First Aid Station. First Baptist Church of Burnsville graciously provided access to their Fellowship Hall, and the Town of Burnsville and Yancey County Government allowed PATH to take over the Town Square! Appalachian Family Dentistry and some great volunteers made healthy and delicious smoothies as a post-race treat. Several volunteers, including friends of Parkway Playhouse and Brownie Troop #01833 manned water stations to keep our runners hydrated. Drummers from Mountain Heritage High School band pounded out a motivating beat in the second half of the race. The South Toe Elementary Girls on the Run club, led by Jada Cash, even pitched in during the week leading up to the race to help stuff registration bags and make signs for the day of the race! And finally, thank you to all of the community members who came out to cheer the runners on!
Congratulations to the following top finishers: Ryan Dion from Myrtle Beach (Top Overall Male Finisher), Emily Chappelear from Burnsville (Top Overall Female Finisher), and Adam Burleson of Spruce Pine (First Stroller Across the Finish Line)! Monkey Business Toy Shop/Something Special Gift Shop generously donated gift certificates for the top overall finishers and those in each age category. Each person who gave it a shot is a winner in our eyes. View all of the race results here.