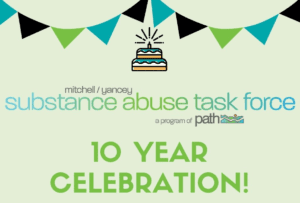 2019 marks the tenth anniversary of the Mitchell-Yancey Substance Abuse Task Force! On September 10, 2019, the Mitchell-Yancey Substance Abuse Task Force held a celebration to look back on the accomplishments to date and honor the people involved over the past 10 years. Participants then took part in an activity that will help inform the work of the Task Force in the future.
The Task Force was formed in 2009 as a result of conversations among local physicians and healthcare providers who were concerned about the growing trend of prescription opioid addiction. Today, the Task Force is made up of concerned citizens from across all sectors of our community. While our work continues to address the opioid crisis, it has also grown to encompass many other substance use concerns in our community.
The Task Force has accomplished much over the past ten years – from collecting hundreds of pounds of old/unused medications and establishing permanent prescription drug drop boxes, to implementing a youth empowerment and substance use prevention initiative with over 50 young people. Yet, there is still much work to be done. Substance use continues to be an ever-evolving, complex problem which requires complex solutions. The Task Force is continues to tackle this complexity, by working on prevention efforts with youth, implementing harm reduction strategies that help people get into treatment, and supporting those who are in recovery.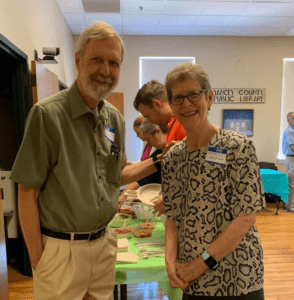 Thank you to all who have given time and resources to address substance use in our community! While our work has evolved over the years to keep up with the changing face of substance use, the one ingredient which remains effective is us together. Together we are making a difference!