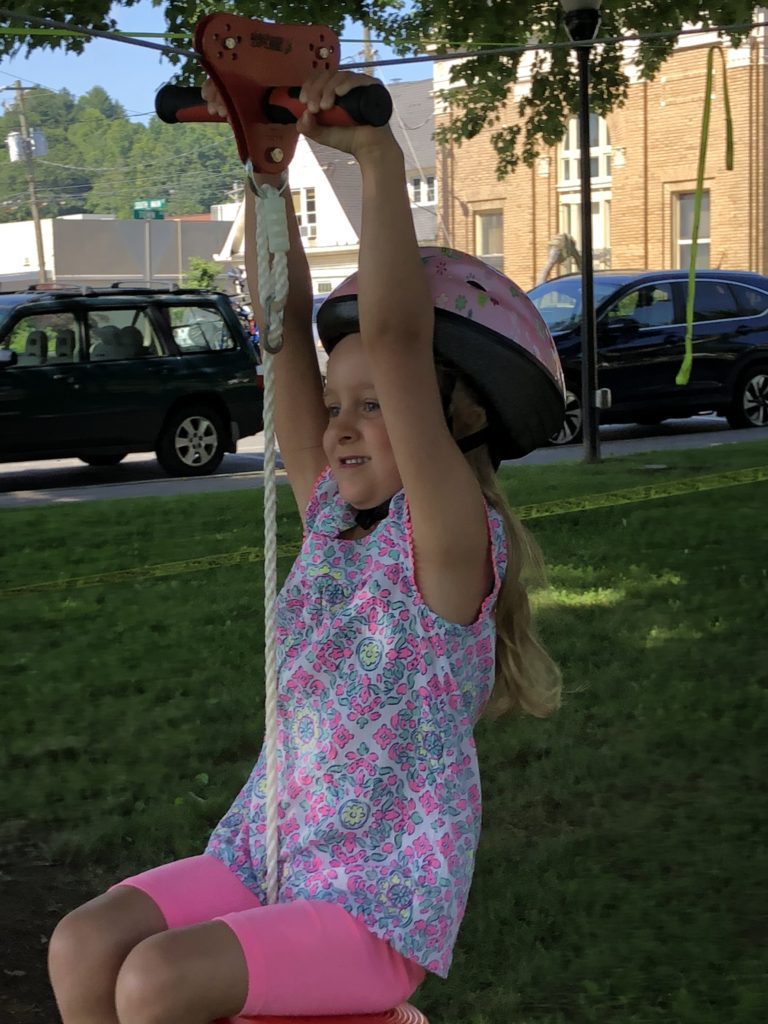 This summer was one for the books! The Sizzlin' Summer Series had an outstanding turnout of over 850 participants. The Sizzlin' Summer series, co-sponsored by Healthy Yancey, the Town of Burnsville, and Yancey County Government, was a chance for people of all ages and abilities to try new things, be active, and connect to neighbors and our larger community.
This year's series was filled with fun, free activities to engage families across Yancey and neighboring counties. Activities included a zip line on the Town Square, ballroom dancing, soccer, and the ever popular inflatable slip and slide. In addition to the many fun-filled activities, the series also hosted a car seat safety checking station, as well as several AMY Bookmobile appearances.
On our end-of-summer survey, 70% of participants agreed that the Sizzlin' Summer Series encouraged them to be physically active this summer. Nearly 85% of participants also visited neighboring businesses or restaurants while downtown for the series. A special thank you goes out to our Title Sponsor, Blue Ridge Regional Health, and our corporate sponsors, Resourceful Communities, Smoker & Folkner Family Practice, and the Town of Burnsville and Yancey County.
A program of Partners Aligned Toward Health (PATH), Healthy Yancey is a partnership of concerned citizens working together to improve the quality of health for all people in Yancey County. Partners Aligned Toward Health is creating a wonderful legacy for the youth that will continue well into the future with programs encouraging lifelong physical activity.
To learn more about the Sizzlin' Summer Series, please visit our project page, here.