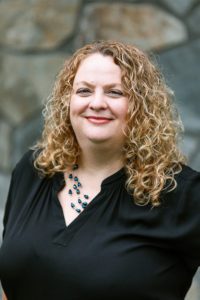 Schell McCall, Executive Director of Partners Aligned Toward Health, recently graduated from the two-year Jim Bernstein Community Health Leadership Fellowship. The Jim Bernstein Fellows Program prepares emerging leaders to work in and improve the health status of rural and under-served communities in North Carolina.
According to Tom Bacon, Director of the Bernstein Fellows Program and former NC AHEC Program Director, "Schell was an ideal candidate for the Bernstein Rural Health Fellowship. She is a talented and dedicated leader who is committed to improving the health of the people of Yancey, Mitchell, and the surrounding counties.  The Fellowship has afforded her the opportunity to hone her leadership skills and to connect to others in North Carolina who share her passion for empowering people to improve their health and well-being."
The Fellowships run for two years and involve educational events, mentoring, site visits to model rural health programs, and the development of projects in Fellows' communities. Fellowships support the work of outstanding individuals who share the vision and commitment to community health and healthy equity exemplified by Jim Bernstein, the founder of North Carolina's state Office of Rural Health. Schell was one of seven Fellows across the state of NC, selected by the Foundation for terms that began in October 2017 and ended on October 3, 2019.
During her Fellowship, Schell had an opportunity to work with John Burton, Executive Leadership Coach with Moonshadow Leadership Solutions. John says, "In my experience, effective leadership requires humility, courage, willingness, and awareness, along with the basics of intelligence, experience, good values, tenacity, and some ambition to do good in the world.  Schell, already stocked with the basics, has grown via her inquisitiveness and willingness to look at and to change her leadership behaviors.   She strives to do good, and to grow.  She is a great example of one who seeks first to understand, both herself and others.  Both the Bernstein Fellows Program and Schell have benefitted from her participation."
According to PATH Board Vice Chair, Susan Martin, "The PATH Board of Directors relies on the professional talents of our Executive Director. Schell already had the heart and experience to run the PATH programs, but the Bernstein Fellowship has further developed her leadership skills to guide us on a positive "path" into the future."